Built for the Renter, our online Rental Management System automates the rental process for you, giving you control and saving you time, while increasing your bottom line.
Start Managing Your Rentals Today
… and start requesting quotes today.
If you love your current rental companies, sign up and load them to your account now for free. Click here. They deserve it and we will make sure they're the only ones to get your quote requests.
Don't know of any rental companies, going to a new place, or just want to try someone new… 
WE HAVE AN EXTENSIVE LIST OF RENTAL COMPANIES READY TO QUOTE.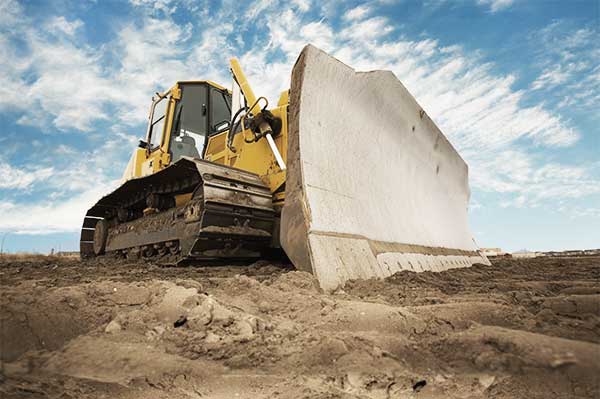 Load Your Own Suppliers
We know relationships are important, as well as, your negotiated rates, payment terms and rebates. That is why you can load your sales reps information straight in our system.  So when quotes go out, it is only to the people you trust.  Going to a new place, no problem, switch your supplier list "off" and we will find them for you.
Track the Assets You Own
In addition to rentals, our system allows you to tracked owned assets.  Creating inventory items and applying them to a project are simple and powerful to ensure you are managing your rented and owned fleet.
1-Click Call-Offs
We know that initial costs are important, but actually calling it off on time is just as important for saving money. That is why you get notification alerts by email to tell you when it is time and a single click of a button to call it off.
We are NOT a Re-rental Company
With yardz, you book directly with the supplier.  We simply help facilitate the process so that you can focus on relationships.  You maintain the same contract and payment terms as you typically would with your rental company, because it is your rental company.
Get Alerts and Inventory Summaries
Our system automates emails to you with summaries of all the equipment (both rented and owned) on each project.  Plus, you can set alerts to ensure your team is emailed when its time to call it off.
One Window to All Rentals
It doesn't matter who you rent with and whether they have a customer portal. Yardz allows you to see everything you rent and own on one screen.  Sort, filter and search with ease.  We make managing cost and logistics a breeze.
Other Renters & Suppliers Are Saying…
"Yardz is the future of the rental industry. It saves us hours in time to get quotes from our suppliers"
Tyler
"I have seen the real savings and can't imagine ever going back to the old way. I feel in control of my rentals.  So simple.  So powerful."
"Yardz is great! It's refreshing to work with company that is providing new leads, streamlining quotes and growing our business with no strings attached."
"I saved $20,000 dollars in equipment called-off just in the first month. It's a game changer.  No more forgotten equipment"
Our goals for you are simple:
Faster Quoting | Get you visibility to the best possible rates from your suppliers, in the least amount of time.
Better Management | Allow you to track your rented and owned assets on each project and assign team members to get alerts so that equipment does not go forgotten, costing you more money.
Make it Easy | Let you make maintenance and call-offs with a click of a button.
We know that by making it easy and saving you time, money and hassle, you will make yardz your system of choice
Never forget a piece of equipment again
Renting has Never Been So Easy. Our Rental Management System We Automate the Rental Process for You. Take control of your rentals and never forget a piece of equipment again.
Here are some key features:
Load and Use Your Own Rental Companies
15 Second Quote Requests Sent to Multiple Suppliers
Track Rented and Owned Assets
Sort by Rental Company, Project, Equipment & more
Notification Emails to Alert End of Rental
On-Rental Summaries Organized Per Project
Maintenance Requests with a Click of a Button
Call-Off with a Click of Button
TAKE CONTROL OF YOUR RENTALS
See the lowest prices available, track your rentals from any supplier,
get alerts to avoid overages and experience one click call-offs
Renting construction equipment, truck fleets and other site needs can be a real pain and huge time suck. Don't waste time calling around to multiple suppliers. After searching and calling each one for pricing and verifying availability, it can be hours before you get to the quote that fits your needs. Yardz takes that process and turns it into minutes with a click of a button.
Use it anywhere on any device.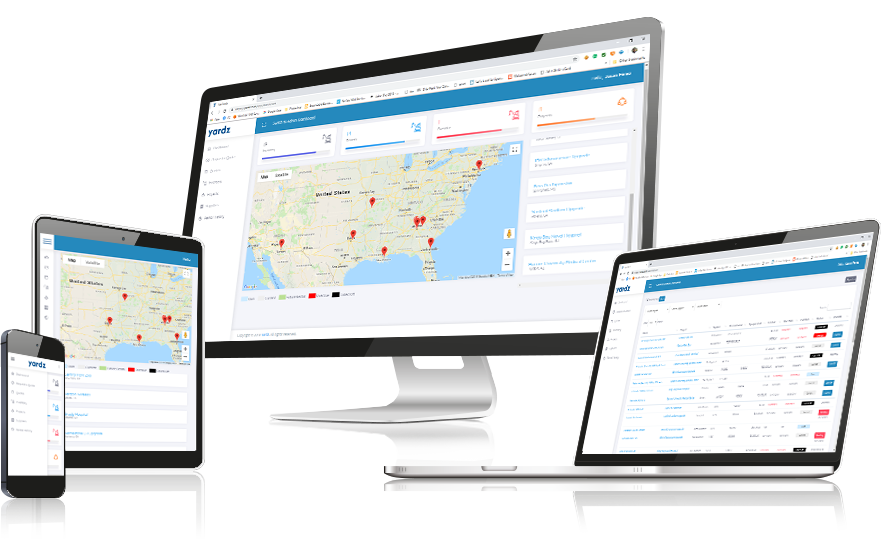 Use it anywhere on any device.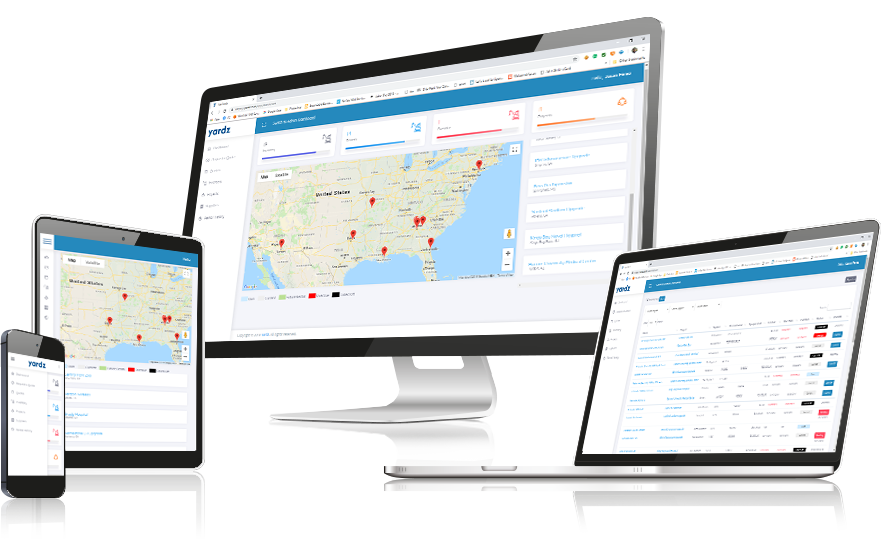 PO Box 708, Marietta, GA 30061