YARDZ has a full suite of features that can be used to manage both rented and owned construction equipment.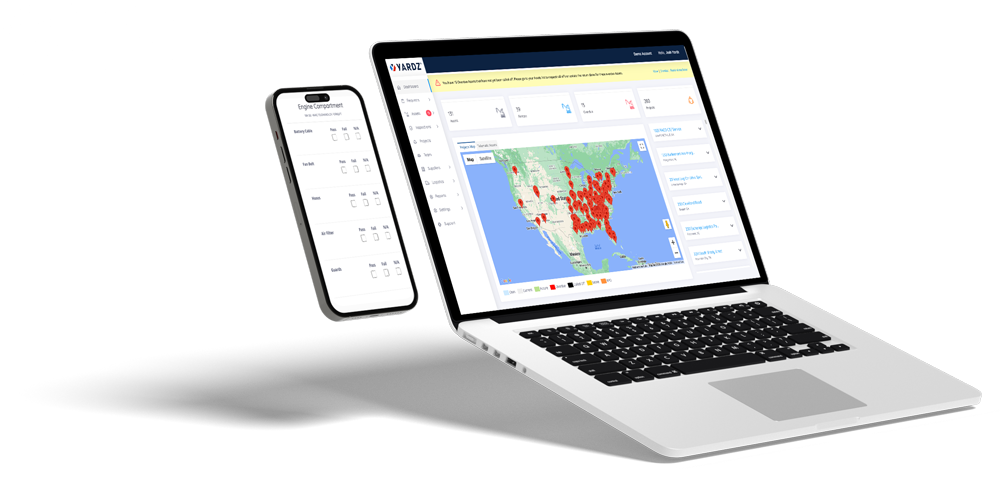 Built for the Renter, our online Rental Management System automates the rental process for you, giving you control and saving you time, while increasing your bottom line.
One Window to All Rentals
It doesn't matter who you rent with and whether they have a customer portal. YARDZ allows you to see everything you rent and own on one screen.   Sort, filter and search with ease.   We make managing cost and logistics a breeze.
Regressional Logic
The average percentage of accuracy of PO's on contracts across many vendors, is typically at 60%.   YARDZ, has highly intelligent regressional logic with 7 steps to correctly place your rentals on the right projects.
Load Your Own Suppliers
YARDZ is the best management tool for rentals because its all about how you do business.   That is why you load your sales reps  information straight into your account.   Relationships, rates, payment terms and rebates are important. So we don't get in the middle"¦ and you deal directly with the people you trust.
Load all your company equipment to start tracking location history, maintenance events, financials, team member usage, utilization and more.
Location History
As your assets move from project to project, YARDZ will automatically track the history of where your assets have been and where they currently are, through a number of automated processes.   No more long and outdated spreadsheet tracking.   With a click of a button, every team member can get the location history.
Team-Facing Notes
Let's face it, stickers and Post-it notes on your desk or the side of your equipment are not a long-term solution.   With YARDZ, each asset has a running list of notes that team members can contribute to so that everyone is on the same page and nothing is forgotten.
Utilization Logs
No more guessing.   With the Utilization Log in YARDZ, you can track fuel, hours, and mileage in a number of ways.   Logs are updated with inspection forms, telematics data, maintenance work, and manually.   Use Utilization Logs to automatically trigger maintenance events, or track overall utilization.
File Management
Get rid of your Shared Folders and make it easy for your team to get access to manuals, registration information, asset photos, and more.   With YARDZ, you can upload files at an asset level so that when you are performing maintenance or just looking for administrative paperwork, it's all in one place.
Your team members are spread out across jobs, offices, and on the road.   With file uploads, your documents and photos can be accessed in one central, organized location.
Project File Management
All project team members now have one place to reference for project plans, photos, forms and more.   At a project level, limit which team members have access to important files needed for   the project to run smoothly.
Asset File Management
Get rid of your Shared Folders and make it easy for your team to get access to Manuals, Registration information, asset photos, and more.   With YARDZ, you can upload files at an asset level so that when you are performing maintenance or just looking for admin paperwork it's all in one place.
Tagging
Organize photos and files you upload by tagging them with keywords to group file types.   With a quick search, you can see all the assets with shared tags.
Work Orders can be used to track and perform inspections, registration, preventative maintenance, and more.
Setup Schedules
Easily setup future maintenance events based on days, months, years, miles and/or operating hours.   Create the event once and have your inspections, telematics, utilization logs, and other service tasks track the miles and hours letting you easily see what work orders is coming up before it's overdue.
Assign Team Members
Easily assign team members and maintenance vendors to work orders.  With members assigned, users can easily filter for what work order they are responsible for.  Additionally, notifications are sent to each user assigned to work order with the current status and details.
One Window to See Work Orders
Managing the shop and overseeing hundreds or thousands of asset maintenance events can be overwhelming.   With YARDZ, you can see one overall view of tasks coming up and plan your schedule with clarity in an organized fashion.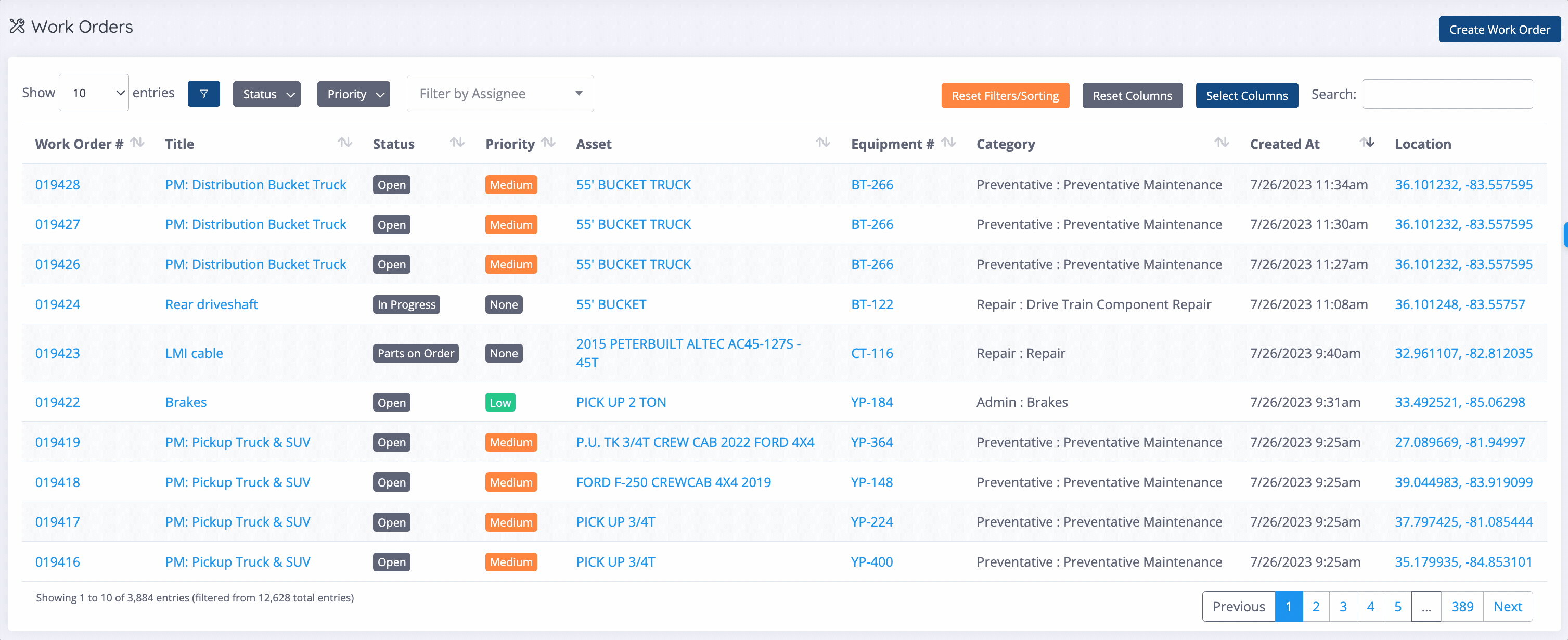 Work Orders in your Area
For most field mechanics, it can be challenging to organize their work schedules.  With YARDZ, you can quickly search for open work orders in your area based on their GPS or project location.
Organize Work Orders with Tasks
Whether the work order get created automatically from a schedule, or its a one of repair, tasks help you make sure to complete each step of the work and guide mechanics out in the field.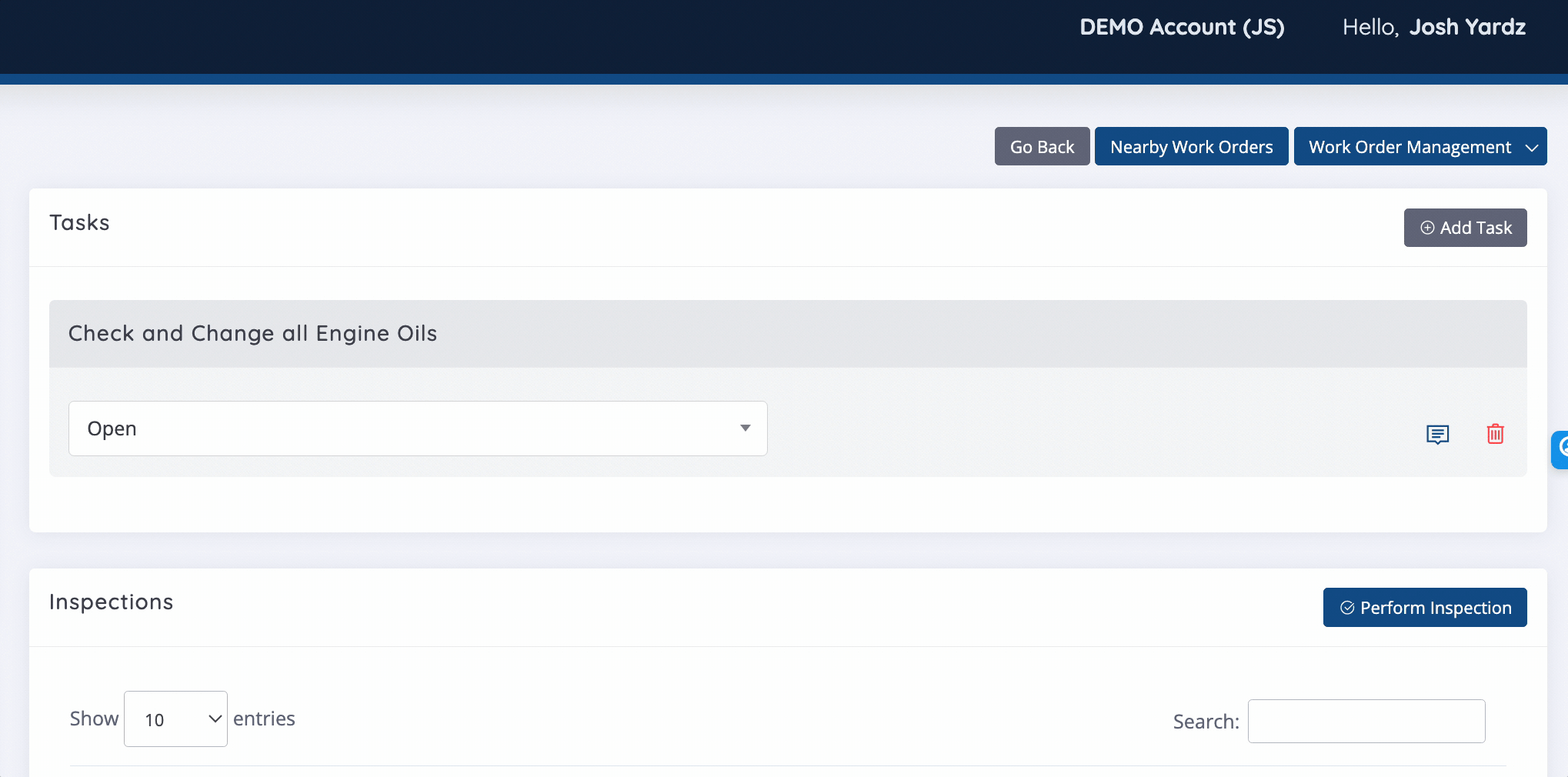 Know who has what tool or asset and when it's scheduled to be returned.   Whether you have a tool cage or are assigning company trucks to your employees, Tool Checkout with YARDZ increases accountability and visibility.
Run Your Tool Cage
With the Tool Checkout module, your cage manager can quickly assign tools and equipment to team members, easily return those items or reassign them to someone else.
Tool / Asset History
Over time you can collect data on who has used a tool or asset along with return and checkout notes to indicate damage, repair, etc.    
Accountability
Every Monday morning your team members get an email with a breakdown of all assets or tools in their possession.    With a single click, your team member can confirm they still have the tool or asset.   This weekly accountability means that missing/stolen assets are reported in a timely fashion.
While reviewing all your rentals and utilization, users can choose to extend estimated rental dates or with a single click, submit a call off request to their sales rep.
Pending Call-Offs
In a single view, users can see all pending call-off requests sent to sales reps across all their rental companies.   Use this to make sure assets are picked and call-off numbers are submitted.
Team Visibility
When submitting or canceling a call-off request, project team members or other administrative personnel can receive email notifications so that everyone is on the same page.
With all your rentals and owned assets in a single portal, the integration of your telematic data from rental companies and or other vendors helps automate location and maintenance data in YARDZ.
Data from all sources
No more need to log into all your different telematics portals. With YARDZ you can pull all your data into one single location to make the decisions you need to make faster.
Geofences
Set up geofences on all your projects and equipment yards so that telemetry data can automatically update current location and location history, as well as create logistic events.
Maintenance Tracking
Have your tracking devices update the operating hour and mileage meter on assets, triggering regular and preventative maintenance events.
Utilization Reports
Instantly know which assets are under or over-utilized to make the right choices while running your jobs.
Fault Code Reporting
For those trackers that are reading from the computer on your assets, any fault code reporting is passed into your single all-assets maintenance portal with YARDZ.
With Inspection Forms, your team can perform daily inspections, make fuel delivery entries, update asset locations, and more.    
Perform Anywhere
Get rid of that paper form and use your phone, tablet, or mobile laptop to perform inspections anywhere.   All inspection logs are immediately stored at an asset level for full team transparency and reliability.
Custom Forms
Start with any of our multiple prebuilt forms and customize them, or build your own.   YARDZ makes it easy to create inspection forms that capture the information you need from your operators.
Images and Notes
You can make it mandatory or optional for your team member to upload photos and add notes at any step of the inspection process.   Images are safely stored with that Inspection Log for later review as needed.
Location Updating
One of the many components you can add to your inspection forms is Location Updating.   When enabled, your inspectors' GPS location is captured from the devices and automatically changes the project location in YARDZ if the asset has moved.   This is especially useful for those assets that aren't yet equipped with GPS trackers.
Failing Notification
What if an inspection fails?   Instead of waiting for the paper to make it back to the office using the old method, YARDZ will immediately fire off notifications to all parties you deem relevant to that type of inspection.
Say goodbye to your whiteboards or outdated Excel logs that are currently managing your logistics.   With YARDZ, all your schedules, all your drivers, all your moves are managed with ease.
Logistic Scheduling
Plan where and when your asset needs to be and then, with a click of a button you can dispatch your drivers.   All the information needed about moving the asset will go to your drivers for easy management.
Add Your Drivers
Choose which team members can be assigned to logistic pickups and delivery.   Even add email addresses from 3rd party drivers to dispatch moves.
Mobile Load and Unload
Drivers have mobile-friendly pages to quickly and easily manage the load and unload process without the need for logging in.
Multiple Ways to Manage
Like most features in YARDZ, you can manage logistic events in multiple ways. See events at an asset level, in list view, or Kanban board.
With all your assets rented and owned in a single portal, reports do not have to be pieced together.   Quickly find what you are looking for.
Project Forecast
As rentals from your 3rd party vendors come into YARDZ, the day/week/month rates automatically populate.   Based on your Start Date and Estimated End Date of all your rentals and their rates, YARDZ can give you an overall project rental budget that updates dynamically as your data changes.
Fuel Delivery Log
By using Utilization Logs or inspection forms, your team can log fuel delivery out in the field. Then you can get a live view - right in your offices - of what assets are being fueled and how often.
Asset Utilization
Easily see which of your owned and rented are being utilized on which projects.   Quickly decide how to best manage what needs to stay on rent or needs to be off-rented.
Rent vs Buy
Do you have so many rentals you can't determine whether it makes sense to continue renting or purchase your own?   With the Rent vs Buy report, YARDZ can show you if your overall rental for any asset will cost more than purchasing.
Load all your projects in YARDZ to manage rental spend budget, project team members, location, business units, geofences and more.
Location Management
Whether your project has a mailing address or stretches miles along a highway, YARDZ helps you draw a geofence around where the project lies to use for inspections, rental mapping, and telematics.
Team Members
At a project level, you can assign team members and also select the level at which they play in that project.   Limit which projects and their associated assets - each team member can access.
File Management
For each project, your team members have a central place to store photos, documents, plans, and more.   Use keywords to tag your files to make them easy to find during a search.
Asset View
Quickly see all rented and owned assets on each project.
YARDZ is more than just asset management; it is a team collaboration tool.   Add your team members to so they can be assigned to assets, perform inspections, selected as drivers, manage files, and run reports.
Custom Permission Groups
In YARDZ, you can create an unlimited number of permission groups to which you can assign your team members .   Permission groups can limit or grant access to specific functionality and features in YARDZ
Team Member Dashboard
In a single dashboard, a team member's activity in YARDZ shows permissions, logins, project access, assets assigned to them, and inspections completed.
Notification Only Users
Do you have a large team and are concerned about cost?   Don't be.   Team members added to YARDZ as Notification Only Users are included at no extra cost.   Those users can get email notifications from YARDZ about asset checkout, overdue rentals, and project summaries.