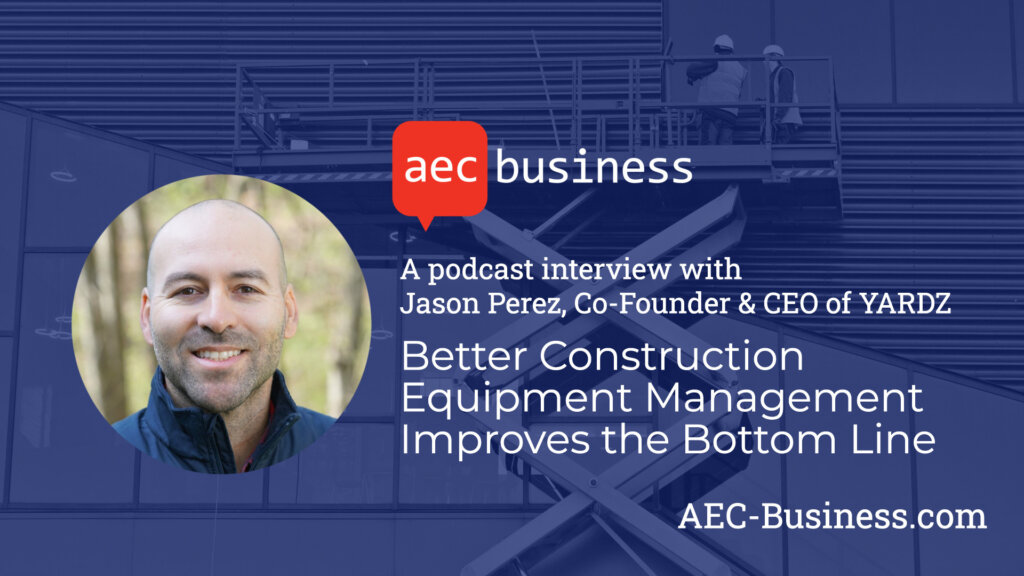 On the AEC Business  podcast, Aarni interviews Jason Perez, the co-founder and CEO of YARDZ, which provides software for tracking rental and owned equipment.
Jason shares his experiences as a construction professional and what led him to found YARDZ with another construction industry veteran Josh Schuyler.
The discussion topics include
How to better management of owned and rented equipment can have a significant impact on a contractor's bottom line
Why construction technology is now booming
How the infrastructure bill will be a catalyst for efficiency and how US contractors should prepare themselves to succeed
About Jason Perez
Jason manages the company's overall strategic direction as it expands in scope and size. Before establishing YARDZ, he founded the Veritas Group, a consulting and management firm with great success in the  mission-critical  world. Prior to that, Jason was Manager of Southeast Region Construction for Syska Hennessy Group. He has sat on the boards of several non-profit entities and is presently an Ambassador for the Marine Raider Foundation.
About YARDZ
YARDZ, founded in 2018, offers powerful software for tracking rental and owned equipment.
The YARDZ tool helps companies better understand precisely what equipment they have in their inventory and where it's located. This saves time and money by eliminating duplicate rentals, displaying all equipment contracts and their provisions, and ensuring that available equipment is sent to the jobs where it is needed most.
While initially intended for construction companies and crews, it is adaptable to a wide range of vertical markets. Suppliers who use YARDZ can also build stronger relationships with contractors and gain more rental business. Flexible pricing and multiple product versions make YARDZ applicable for companies of all sizes.
Source: https://aec-business.com/better-construction-equipment-management-improves-the-bottom-line/